I have been a tatu fan since 2002 but I've always considered Yulia Volkova to be my idol because I admire her in so many ways. Yulia has such a confident attitude, a unique angelic-sounding voice, and is very beautiful and talented! Volkova also has great style! (Her hair, clothes, etc.) How could I not look up to her? Yulia is an inspiration. I can't imagine what growing up would have been like without her.
In December of 2009, the last year tatu was really active as the group tatu, shop.taty.ru had a holiday auction. The robe Yulia wore during the Waste Management photo shoot was included in the auction. It had beautiful designs and a wonderful color. Because I had lost the previous bids in the auction, I wasn't going to try to bid on the robe. But I kept thinking about it and wondered, "What if?" So I bid $220 (like the song in which she is the main vocalist). I'm bad at auctions. I always feel greedy and bad for competing. It is why I lose so many eBay auctions. But on the last day of the auction for her robe, I felt a strong urge to bid higher. I thought, "I really want this. It's so beautiful and it was worn by my idol!" So I bid ten more dollars.
Money was tight. I was a college student and it was Christmas time. If I was to win the auction, it would be investing a lot of money on myself when I should have been buying gifts for others. I felt like I deserved it though. I had a rough and depressing year. It was something I really wanted. And above all, I've never spent this much money on myself – ever! I was always spending my hard-earned money on others who treated me like crap.
A few days later I got an e-mail from shop.taty.ru notifying me that I was the winner! It asked my permission to announce me as the winner on its website! I debated for a long time, should I wear it or will that devalue it? In January of 2010 the robe came in the mail. I decided to film it like I've seen other fans do with their packages (such as "tatuyugipiulover"). The robe took forever to open! It was wrapped in three layers! I had to speed up the video at one part. Finally! When I opened the robe, it smelled so strong – like something old and antique (the smell is gone now).
That was when Diana found me on youtube. (She is on the forum as "nich'ya:)"). Diana told me I should join the forum. I had no idea how to use a forum but she helped me a lot. When I joined, I saw Flo had posted my "I Won Yulia Volkova's Robe" video and that many people had commented on how happy I looked.
I became more open to the tatu community, which I didn't even know existed! (Because I just started being active on the Internet.) I met so many wonderful people and friends from around the world! Someone in the forum told me they had also bid $220 on the robe. What would life have been like if I didn't change my bid at the last minute? I never would have became involved in the tatu community, met new friends, etc. It is a world where I didn't feel alone and others shared my interest. It felt good to be apart of a community and made life a lot more bearable. I owe it all to that robe, which is now in a glass case hanging on my wall. A piece of art with deep sentimental values.
"I Won Yulia Volkova's Robe" video-
http://youtu.be/Qayv8F11oKg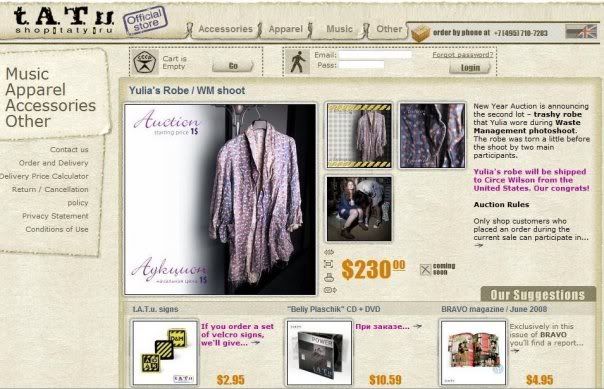 t.A.T.u.'s official youtube channel added my video as one of their favorites!
Thank you Amanda for posting!
http://juliavolkova.us/robe/